Beauty Careers in the Entertainment Industry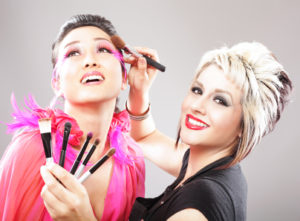 Careers in the entertainment industry are fast paced and exciting, and therefore they are highly sought after.
You can get a leg up on a beauty career in the entertainment industry with a beauty school degree and a lot of dedication and demonstrated passion and creativity. There are a multitude of entertainment-related beauty careers and the best way to break in is to take every opportunity that you get and make the most of it. On every job you do, be respectful and motivated, and then make use of your contacts you make to get your next job. The entertainment business is all about connections, so remember to keep in touch with all of the beauty professionals you′ve worked with on set or on a shoot- they′re your best bet for finding another opportunity.
Many people think that all of the entertainment jobs are in Hollywood. That′s simply not true. In fact, almost every big city has scores of entertainment jobs for cosmetologists. From theater productions to independent films, commercial shoots and corporate videos, there is plenty of work to go around. Magazine and newspaper shoots, as well as print ads and modeling, are a great way to hone your skills. Though there are some differences between hair and makeup techniques for still photography and for video or film cameras, the skills you′ll learn on any job will help you on the next one. Many beauticians work on pageants and fashion shows, building relationships with models that can then carry them into the on-camera world. Relationships are key. If you can develop loyal clients and strong professional relationships, they will be your strongest resource for securing future cosmetology-related jobs in the entertainment industry.