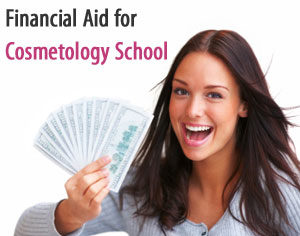 A cosmetology scholarship is a financial 'gift' which may be used toward the cost of attending cosmetology school. It's generally considered a gift because (most) scholarship do not need to be paid back. The cosmetology scholarship funds are generally paid to the school, and any money remaining after paying for your cosmetology courses goes back to the student.
Cosmetology scholarships may help pay for Beauty School. Scholarships may not pay all of the necessary beauty school tuition, however the nice thing about beauty school scholarships is that the money received may does not need to be paid back.
How Are Cosmetology School Scholarships Awarded?
Many beauty schools may offer scholarships based off of merit, which means they may look at past grades from high school or college. Getting good grades in schools prior to applying for a beauty school scholarship may greatly increase your chances of being awarded a scholarship.
How To Apply For A Cosmetology School Scholarships?
The first step in applying for a beauty school scholarship is to find a beauty school that you are interested in and see if they offer a scholarship program.
Apply for a scholarship using our interactive form and we will forward the information on to a participating program administrator.
Different Types of Cosmetology Scholarships
Cosmetology Scholarships based on Merit: The recipient may be determined by cosmetology students' skills such as make-up, hair design, artistic or other abilities.
Cosmetology Scholarships based on Need: This cosmetology scholarship is determined by the students financial situation as the primary factor. Usually these cosmetology scholarships cover all or part of tuition of cosmetology school, and perhaps other living costs.
Cosmetology Scholarships based on Sociology: This is financial aid where applicants must initially qualify by race, religion, or national origin. After filtering the applicants based on their ethnicity, additional factors are taken into consideration to determine the final recipients.
Institutional Cosmetology Scholarships: These are scholarships awarded by a specific cosmetology school or beauty college (institution) to a cosmetology students planning to attend that particular cosmetology school.
General Cosmetology Scholarships: Cosmetology Scholarships that may be for any other reason, such as reasons of the student's association with the objectives of the sponsoring organization such as salon, beauty school, or website. For example, some companies give cosmetology scholarships to their employees' children, or some Salons may award Cosmetology Scholarships to employees furthering their education.
Beauty School Scholarship Programs
ACE Grant ACE Grants are designed to help you begin your career in cosmetology. Sponsored by three major beauty industry associations: the American Association of Cosmetology Schools (AACS), the Cosmetology Advancement Foundation (CAF), and the Beauty and Barber Supply Institute (BBSI), ACE Grants are the first ever industry-wide effort to encourage highly motivated and qualified individuals to join the world of cosmetology.
AHBAI Scholarships In 1991 AHBAI established the Fred Luster, Sr. Education foundation in honor of the late Fred Luster, Sr. who was a founding board member of AHBAI and founder of the Chicago-based Luster Products, Inc. To date, the foundation has awarded nearly $500,000 in scholarships.
NCEA Scholarship Application NCEA and AACS have partnered to bring you the First Esthetician Scholarship Program through ACE – Access to Cosmetology Schools, a division of AACS. These incentive scholarships will be awarded to students that demonstrate good performance in school as well as financial need.