7 Things to Ask & Consider During a Beauty School Admission Meeting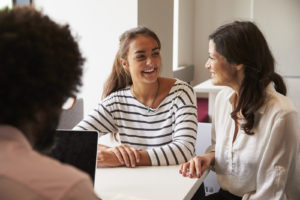 1) Is the Cosmetology School Accredited?
Accreditation is important if your main goal is to receive a valuable, well-rounded education from a beauty school. If a beauty school is accredited, it has met or exceeded the Department of Education's minimum educational standards. Essentially, that accreditation gives the school credibility. You can have confidence that you'll receive a good education from that program. Keep in mind that some states require that you attend an accredited beauty school in order to eventually receive your license. So, definitely find out if the school you're considering has earned proper accreditation.
2) How Flexible Is the Beauty School's Curriculum?
Many cosmetology schools offer a program that doesn't provide much flexibility. All students of the program go through the same courses at the same time and progress at the same level. This can have a couple of disadvantages. First, you may be able to learn and progress more quickly than the other students. If so, having the choice to take more advanced courses may allow you to grow more fully as a stylist. Second, you may wish to focus on a certain aspect of cosmetology. For example, you may want to build your career by specializing in colors. Having the ability to modify your curriculum (after taking the core classes, of course) based upon your personal goals can be a great way of learning and developing your specialty.
3) How Much Real Experience Will You Receive?
Learning how to style hair on plastic doll heads is a good way to learn. However, the best way to absorb what you learn is to apply it on people. Before choosing a beauty school, find out how much exposure you'll be given to people. You want as much experience as possible. You're going to be learning a ton of exciting things in your cosmetology classes. You'll learn about colors, chemicals, cuts, weaves and other styling options. To truly learn, improve and master these skills, you must be able to try them on people. Try to find a school that will provide you with this kind of experience.
4) Are There Financial Aid Options?
Beauty school can be costly. Estimates from programs around the country can reach up to $15,000. Many schools understand that some students may have difficulty finding the money to pay for the program's tuition. To help those students, some beauty schools offer financial aid packages. Other schools help students find money for tuition through grants and low-interest loans. If you're considering a beauty school, but have crossed it off your list because of the tuition cost, ask them if they offer any financial aid. You may be surprised by the options you have.
5) Is the Beauty School Close to Your Home or Office?
Ideally, you want to find a cosmetology school that is located near your home or your workplace. In order to qualify for taking the state exam for your cosmetology license, you'll need to complete 1,600 hours of educational coursework. Some students attend classes full-time. Others have a full-time job and choose to attend classes part-time in the evening. That is a lot of time to invest and your day can easily become unmanageable. If possible, choose a beauty school that is close to where you live or work. That will make attending more convenient and easier to manage.
6) Will the Beauty School Train You According to Your Interests?
Many cosmetology programs have a particular focus. Sometimes, the focus is a reflection of the community in which the school is located. For example, a beauty school that is located in a city with a large retired population may focus on fast, inexpensive haircuts. Meanwhile, a school in Los Angeles or Hollywood may focus on colors, chemicals and the latest cutting techniques. It's important that you find a school that matches your interests. That way, you'll receive the education and experience necessary to develop your specialization. Before choosing which beauty school to attend, ask the instructors at the school what services they focus on.
7) Does the Beauty School Offer Job Placement Services?
After you have completed your 1,600 hours of coursework, you need to begin planning for where you'd like to work. There are salons everywhere. However, some of them may already be completely filled with stylists. That is, they may not have the room to give you a station. Many beauty schools help place their students in salons after they graduate and receive their cosmetology license from the state. These schools work closely with salons in the communities nearby. The salons benefit by having an immediate source of trained and motivated stylists to hire. You benefit by having plenty of potential job leads right after graduation. Ask the beauty school you're planning to attend if they offer job placement services as part of their program.